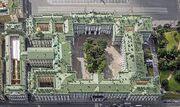 The Winter Palace was a building in Russia. A version of it existed in the Thirteen-Day Republic.
It was built by Catherine the Great to house her art collection, and enhanced by successive Tsars and Tsarinas, eventually considered to be the most elaborate of the Tsarist Palaces. In 1917, the last Tsar was overthrown and the first Soviet government moved in. (PROSE: The Book of the War)
External links
Edit

Ad blocker interference detected!
Wikia is a free-to-use site that makes money from advertising. We have a modified experience for viewers using ad blockers

Wikia is not accessible if you've made further modifications. Remove the custom ad blocker rule(s) and the page will load as expected.