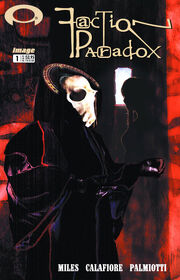 Faction Paradox #1 was the both the first and penultimate issue of the 2003 Faction Paradox comic series. It bore a cover date of August 2003 and initially sold for USD 2.95
Contents
Edit
Its main story was the 16-page Political Animals. However, it also contained a pair of illustrated text stories, Gazeteer and The Reliquary. Unusually for a first issue, it also had a letters page.
Steve Johnson was responsible for all artistic duties on the cover.
Ad blocker interference detected!
Wikia is a free-to-use site that makes money from advertising. We have a modified experience for viewers using ad blockers

Wikia is not accessible if you've made further modifications. Remove the custom ad blocker rule(s) and the page will load as expected.